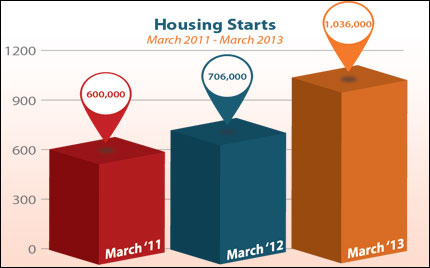 Housing Starts spiked by 7 percent in March to 1.036 million units on an annualized basis, well above the 930,000 expected. This was the largest rate since June 2008. In addition, Housing Starts were up a whopping 47 percent since the same period last year.
Building Permits, a sign of future construction, did decline by nearly 4 percent to 902,000. But overall, this was a strong report and further evidence of improvement in the housing sector.
What does all of this mean for home loan rates? The Fed has noted that inflation remains in check and they expect this to continue for some time. The recent inflation and weak jobs data gives the Fed cover to continue its Bond purchase program known as Quantitative Easing, which should continue to benefit Bonds and home loan rates (since they are tied to Mortgage Bonds).
The bottom line is that home loan rates remain near historic lows and now is a great time to consider a home purchase or refinance. Call Stuart with any questions!