Elizabeth Berg is an illustrator, freelance artist and art teacher. We are thrilled to feature her work for our Friday, December 2nd Art Walk tonight from 5 until 9 pm. Her work will also be featured at our office for the entire month of December, but we encourage you to make a trip into town tonight and enjoy this wonderful event. We will be serving festive Poinsettia cocktails with Argyle sparkling wine.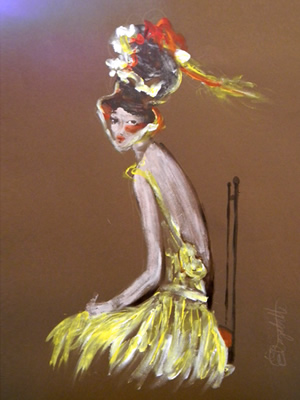 The bio below is a little bit about Elizabeth from her own website, www.Elizabeth-Berg.com.
"There is a universal language that crosses all cultural borders. Held
within images are feelings, emotions that evoke, that prove our unity."
–Elizabeth Berg
I grew up in a house filled with antique books and furniture. My mother was the great collector, my father a violinist.
My first childhood delight was to pour through the old illustrations, full of life and history and wonder. Those ancient illustrations left a most powerful impression upon me as a child. They gave me an insatiable desire to make art and create beautiful images.
I won the first of several awards at age ten. I was recognized as a prodigy at about eleven years old and accepted into Chiounard Art School in California, as a 'special student'. I've had several wonderful art teachers. After extensive art history study, I could not be restricted to a single style.
So, for many years I have taken the influence of the illustrators of old — and the art history from many cultures — and developed a number of very diverse expressions and styles of my own.
My work experience is as varied as my art. I have worked as an illustrator for several publications. As a freelance illustrator I have created everything from commercial advertising, package design, children's book Illustrations, covers, and characters… to corporate logos and everything in-between.
As a visionary my mind provides endless links to endless trails of images and solutions to all manner of mauscript, from imaginative fantasy stories to poems and educational material.
As an artist, I am constantly producing new visions and new styles for myself or for my clients. I especially enjoy translating complex concepts into visual illustrations.
As an art teacher, I have a unique way of working with each of my students, as well as the inexperienced. My wish is to help them to know that art is in all of us and it is easy to access.
I think I am a good communicator. I hope that you will give me the opportunity to help you get to the heart of what you want or need.
Thank you,
Elizabeth Berg
On the first Friday of every month the very best of local art is on display – all in one centralized location! You'll see talent that has been encouraged and developed by our very own landscape – the vineyards, the mountains, the buildings, the people… It's nothing short of inspiring. And although the art is the reason we gather, it gives an opportunity for tasting fantastic local wines and engaging with others our community. You won't be disappointed if you do come out for a few hours. You'll be surprised by how much fun it is and impressed by everything that Yamhill County has to offer.  We look forward to meeting you at Bella Casa Real Estate Group!